Dazzling line-up of top-rated performers
Shibusa Shirazu was started in 1988 by bassist Daisuke Fuwa with Japan's top-rated musicians. It is now a flexible outfit of 20 to 30 musicians, including wind and brass instruments such as saxes, trumpets and a flute; string instruments such as violin, guitar, bass and biwa (a traditional Japanese instrument); drummers and percussionists; keyboards and more. The musicians are augmented by singers, white-body-painted, half-naked butoh dancers, female dancers in flashy costumes and stage prop artists.
Spectacular performance, flexible formation
Shibusa Shirazu's large-scale production has proven apt for major music festivals, as attested by enthusiastic audiences, many of whom caught off guard, at Glastonbury Festival 2002 and Moers New Jazz Festival. A lesser known fact is that it is a flexible outfit that doesn't discriminate venues, from out-door events, concert halls, clubs to even streets.

Shibusa Shirazu - "Never Be Cool"
Shibusa Shirazu (SHEE-BOO-SAH SHEE-RAH-ZOO) is a Japanese phrase meaning "Never be cool". As the name says, the band doesn't stay within the "cool" frame of jazz big bands. Although based on jazz featuring improvisation, its music reaches over into romantic Japanese "kayo" songs, rock, funk, ska, Latin, trance and Balkan beats.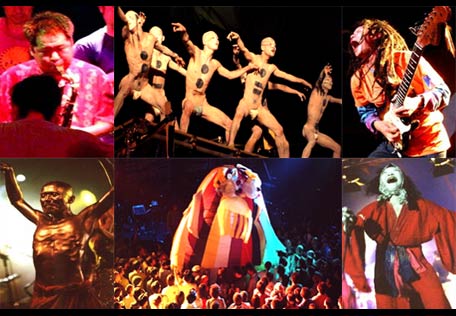 "It's always a pleasure for us to visit new places and meet people. Come and see us next time we are in your country. We are in tip-top shape and are itching to strut our stuff."

-Daisuke Fuwa (band leader)